At Reems Creek Nursery
Sat. Nov. 18
10-11:30
With Ruth Gonzalez
Create a lux holiday wreath full of color and texture to brighten your holidays. We'll embellish a fresh Frasier fir wreath with a beautiful mix of greenery, berries, and pinecones that will welcome in the season with cheer and style. Ruth will lead us step-by-step through the process and you'll take home a ready-to-hang wreath by the end of the workshop!
Get creative with us. Make a date with your friends and family to come together!
$75 + tax: Includes all the materials and wire needed to create your wreath including instruction, a fresh Frasier fir door-sized wreath along with all the embellishments – colorful mixed greenery, berries, and pinecones.
You are welcome to bring embellishments from home or to purchase additional embellishments at Reems Creek Nursery to add to your wreath. Toward the end of the workshop Ruth will demonstrate how to add a bow to your wreath. Feel free to pre-purchase bows in the Garden Shop prior to the workshop to add to your wreath.
Please bring your own scissors/pruners from home.
**The wreaths we create will be similar to the wreath pictured above, but greenery, berries, and pinecones may vary based on seasonal availability.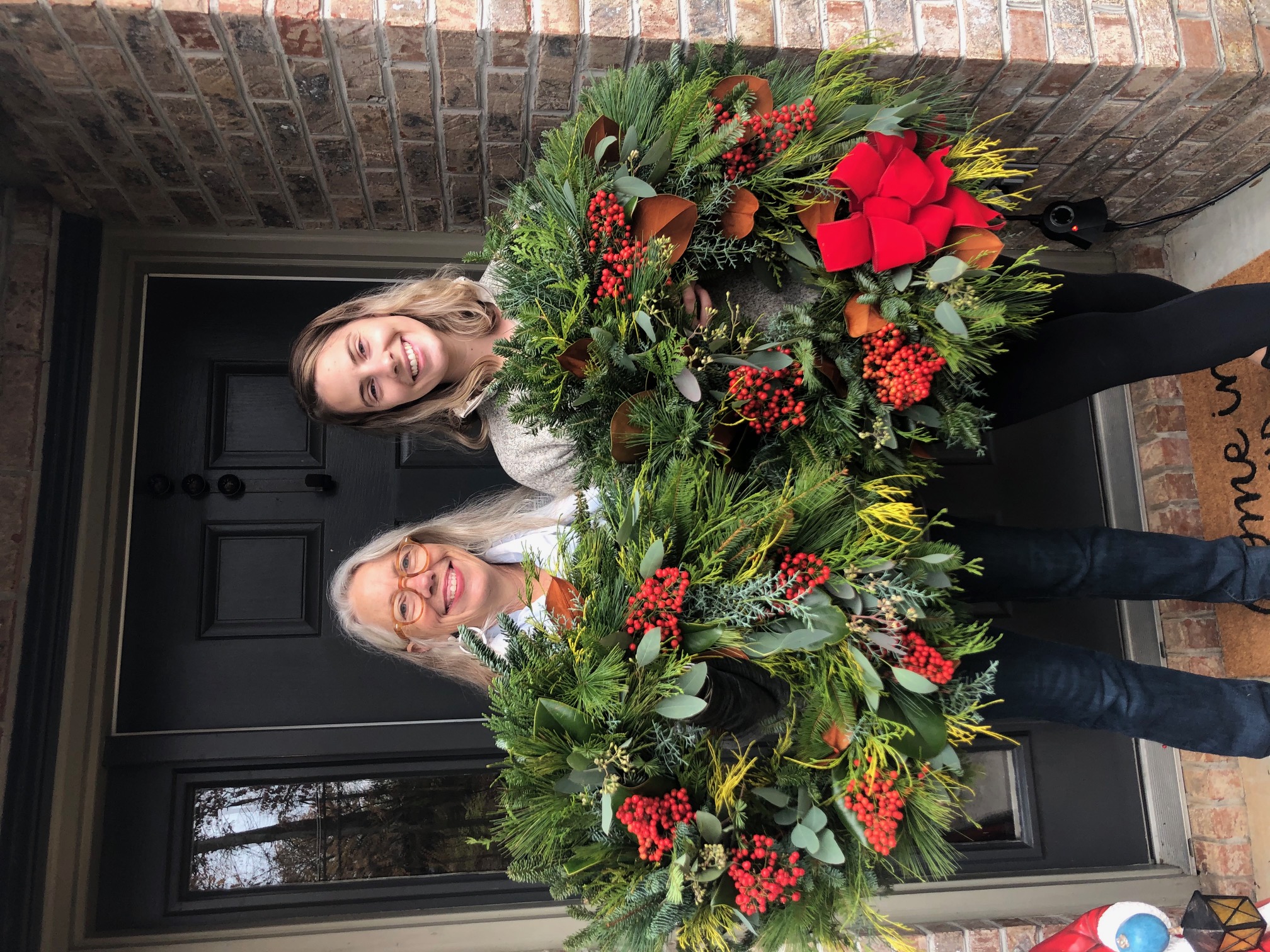 Ruth Gonzalez and her daughter, Julie Claire, having fun making wreaths!
About Ruth Gonzalez: Ruth loves decorating for the holidays using natural elements like a variety of greenery, berries, cones, and lichen. Her advice? Whether you're making wreaths or arranging flowers – always gather way more than you think you'll need. You'll still need more!
Ruth has actively gardened since her college years – ranging from organic market farming to tiny-space gardens to gardening for pollinators. Organic gardening, pollinator habitat, and the awe & wonderment of nature are her passions. A sometimes artist, occasional garden designer, and a NC Certified Plant Professional, Ruth has worked at Reems Creek Nursery since 2003 and
is inspired by an array of plant palettes and landscape design approaches – especially those that sustain the natural world.