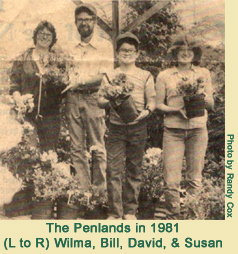 Reems Creek Nursery – A Little History
1966 – Bill and Wilma Penland, both born and raised in the Weaverville community, built a house for their growing family. They recognized the need for a plant nursery in the area.
1979 – The business was launched in Bill and Wilma Penland's front yard in the Beech Community of Reems Creek as a small retail nursery offering trees, shrubs, vegetable starts, and annual flowers. Wilma attended Haywood Community College for 2 years, obtaining a degree in Horticulture. In the evenings they made house calls and designed landscapes. The Landscaping division began to install plants and hardscapes.
1985 – Land was obtained on Monticello Road, and both the Garden Center and Landscaping operations continued to expand. The Penland children, Susan and Dave, were high schoolers and worked in all areas of the business – Dave mainly with Landscaping and Susan with Bookkeeping. Eventually both studied horticulture at NC State University.
2001 – After many years of increasing the retail, landscaping, and plant production activities, it became apparent more room was needed. Our farm production facility was built to propagate and grow a wide variety of plants for the Garden Center.  This is located on Wilma's family farm, very near the original location of the business.
2014 – Reems Creek Nursery purchased the "tractor dealership" building next door.  After many years of offering landscape design/build and maintenance services, the decision was made to phase out those activities. Dave announced his plan to change careers after working with the Landscaping division for almost 30 years. The former tractor dealership now houses a wonderful Garden Shop. 
2019 – Bill and Wilma have mostly retired, and Susan served as President of the company. Dave taught agriculture classes in the North Buncombe school district and continued to play an active part in company decisions. Susan's husband, Joe Reavis, served on the Board of Directors.
2023 – This year marks our 44th anniversary! Bill and Wilma are mostly retired but at the Garden Center on a daily basis. Susan's husband, Joe Reavis, serves as President of the company, and Susan's son-in-law, David Williams, serves as Vice President of Operations. Susan is managing our Propagation Farm and doing what she loves – growing plants. After 8 years of teaching, Dave Penland has returned to the Nursery as our Green Goods Manager and plays an active part in company decisions. 
Our passionate staff are at the heart of Reems Creek Nursery and they make it happen! Their hard work and dedication go above and beyond simply a "job" and we are extremely blessed to have such great Plant People.
Heartfelt appreciation goes out to the wonderful customers and gardening friends who have supported Reems Creek Nursery over the years. Thank you!